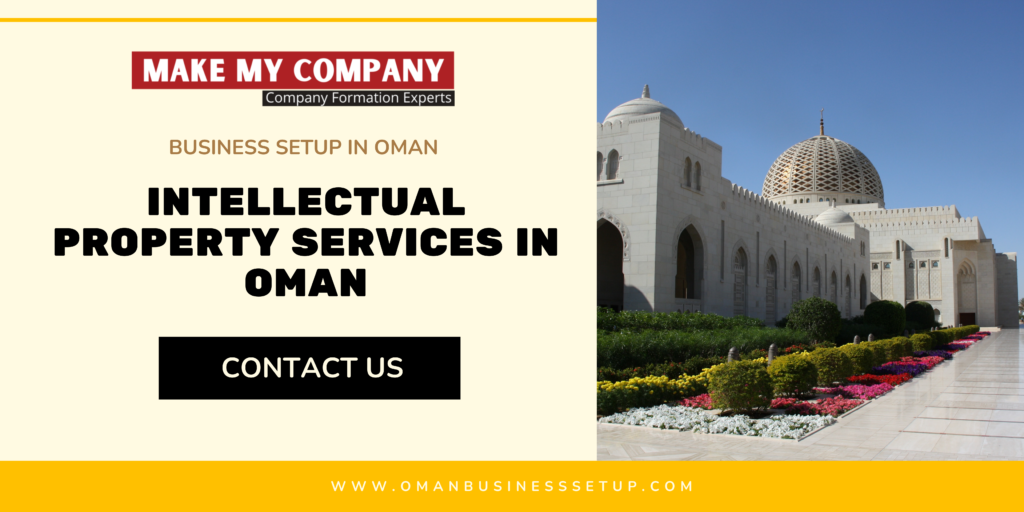 Intellectual Property Services
in Oman
Oman is an official participant in the World Intellectual Property Organization (WIPO) and has been signed as a signatory to the Paris, Madrid, and Berne conventions on trademarks and intellectual property rights. Oman is also a signatory to the WIPO Performance and Phonograms Treaty and the WIPO Copyright Treaty. If you own a business and would like to protect your intellectual property, you need to take the right steps in Oman. Trademark registration, Copyright protection, Patent filing, and Anti-counterfeiting services are just a few of the important intellectual property services. 
Trademark and patent in Oman
If you are planning to set up a business in Oman, you should know about trademark registration in Oman. Trademark is a distinctive sign of a company and speaks for it. It must be unique so that other companies cannot use it. Trademark registration in Oman is compulsory for every company in Oman. This registration will serve for 10 years. However, you should not forget that there are certain restrictions while registering a trademark in Oman. Alcohol, pork, and nightclubs cannot be trademarked.
Once your trademark has been registered, you must use it for at least five years. Otherwise, it may be canceled. To avoid this, you can hire Make My Company as we can help you with the entire process. We will prepare and submit your trademark application to the relevant authorities and handle the filing, ensuring that your trademark registration in Oman is effective. 
The laws on trademarks in Oman comply with Trade-Related Aspects of Intellectual Property Rights (TRIPs). Brands last until 10 years after registration in Oman, while patents last for 20 years. The procedures and the documents required to get a trademark registered or a patent in Oman is as the following:
The application for trademark or patent needs requiring to be filed with the Intellectual Property department of the Ministry of Commerce and Industry (MOCI)

The application must be made in compliance with the conditions and terms stipulated in the executive regulations for the IP law.

The application must contain an explanation of the mark, as well as a list of the goods as well as services to which trademark or patent registration is required.

It will then be analyzed by the department in order to establish whether the trademark or patent can be registered.

During the process of examination, the authority will object to the application, and the candidate is allowed to address the department's objections

When the objections are addressed, the department will approve the application, and it will get published in the official gazette as well as the local newspaper.

The intention behind publishing in the official gazette, as well as the local newspaper, is to allow anyone interested to protest against the trademark registration

An applicant is provided an additional 90 days to protest against the decision.
After listening to both the applicant and the person who objects, The department will then decide if it is acceptable or denies the request.
Documents Required to Register trademarks in Oman.
An original copy of the commercial registration documents of the applicant

Information about the products and services that are the subject of the trademark being registered

A power of attorney should be granted to the trademark lawyer in Oman

A duplicate of the brand is thought to be trademarked within Oman with its initial color
Documents Required to Register a Patent in Oman
Power of Attorney (notarized and legally endorsed) that extends to the Consulate in Oman

The abstract of the invention is both in English and Arabic

A notarized copy of the document that the applicant is incorporated into the Arabic language.

The technical specification of inventions and their technical description in English and Arabic

The certified version of an official document of priority

A copy of the deed assignments by the inventor(s) in Arabic translation (legalized)

A replica from the Patent Cooperation Treaty (PCT) publication, along with the Arabic translation when the work was published
Trademark Registration Fees in Oman
| DESCRIPTION | FEE (OMR) |
| --- | --- |
| Registration application with stamp | 50 |
| Trademark recording charge in the MOCI books, in case of acceptance | 50 |
| Publication in the official gazette | 50 |
| Issuance of trademark registration certificate | 50 |
Copyright in Oman
If you have content that you'd like to keep exclusive, copyright protection in Oman can help you do just that. Under Omani law, all literary, artistic, and scientific works are protected by copyright law. In addition to literary works, this protection also applies to computer software, databases, and ideas. Regardless of what the content is, it must include the original title and author. In addition, ideas, concepts, and methods of doing business are all protected by copyright law.
Trade secrets are a form of confidential intangible asset. They serve a vital purpose in building organizations. If you're planning to set up your manufacturing business in Oman, you must consider copyright protection. In Oman, patents and trade secrets are regulated by government authority and can last up to 20 years. In addition, Oman is a member of PCT and GCC. Thus, it is important to protect your intellectual property, both for legal as well as commercial purposes.
The copyright protection law in Oman protects foreign copyrighted literary works, technical, scientific, audio as well as video recording, as well as works of graphics and other arts. The result of foreign literacy has to be licensed by Omani government officials. Omani government by depositing an original copy and paying a set fee. Software, literature, and audio-visual material have been protected for 50 years in Oman.
The necessary documents to register copyrights in Oman are the following:
A notarized and legally endorsed power of attorney that is valid up at the consulate of Oman

The work is available in three copies.

A legalized and certified copy of the home address or any other foreign copyright registration, as well as an Arabic translation
Anti-counterfeiting services
If you want to protect your brand, it is important to implement an anti-counterfeiting strategy. The services provided by anti-counterfeiting law firms are crucial in the fight against counterfeiting. There are various options for companies to take, including legal actions, and obtaining certificates of authenticity. In addition to anti-counterfeiting laws, companies can also use third-party verification services to prevent counterfeiting.
Anti-counterfeiting services in Omani law protect companies from counterfeit goods. These services include identifying known areas where counterfeit products are sold, as well as determining the identity of the person or business involved. Investigations also involve identifying whether the goods or services are sold through retail or wholesale channels, and whether they are in compliance with existing license agreements. If necessary, undercover surveillance is carried out of the company, person, or entity involved in the activity.
Dispute resolution
CMS Oman is home to a leading team of disputes resolution attorneys, many of whom have extensive experience in mediation and arbitration. In addition to representing domestic and international clients, this team also has substantial experience before Omani courts. Many of its members are members of the Omani Bar and have substantial local experience. Dispute resolution services for intellectual property rights in Oman are provided by lawyers in the firm's Muscat office.
Omani courts are generally unwilling to enforce foreign arbitral awards and do not recognize arbitration provisions. However, the Primary Commercial Court will accept cases involving a foreign-owned company. In the event that these parties are unwilling to cooperate with the Omani court, they may seek a court-administered mediation service in Oman. The Omani courts may also seek the assistance of a third-party lawyer, whose expertise is in intellectual property disputes.
Our Intellectual Property Services in Oman
We offer a broad range of Intellectual Property services in Oman. It includes:
Services for Intellectual Property Licensing

Assuring IP protection abroad

Registering trademarks, patents, and copyrights

Dissolving intellectual property disputes

Brand value
The advantages of availing Intellectual Property Services
The most significant benefits of using services in intellectual property for your company include:
They can help increase customer's loyalty

They can also be used as collateral for the purchase of financial instruments.

They are a significant source of inspiration

They aid in the branding or marketing of the business

They assist in distinguishing your company from its competitors.
Why Us?
Make My Company is a management consulting firm that provides various solutions for company establishment and expansion into foreign countries. We aid our clients in closing all legal processes which are necessary for establishing the business, safeguarding intellectual property, tax policies, and more. Our experts can help in selecting the right infrastructure to provide the services related to intellectual property.
Frequently
Asked Questions
What type of penalties does Oman Copyright Law provide against violators?
The punishment is an option of jail for a term not exceeding two years, and a fine that is not more than OMR 2000, or any of these two sentences for securing the rights of infringers within Oman.
How long will it take to get an copyright within Oman?
It can take 2-4 months to obtain copyright registration in Oman.
A patent search can take place in Oman?
A patent search is not possible in Oman.
Are there any products or services offered in Oman that trademarks cannot be registered
The trademarks cannot be registered within Oman for any goods or services.
How do I conduct a trademark search within Oman?
It can take 4-5 days to complete a trademark search within Oman.